Persico Marine and Pininfarina together for the new WallyCento
A new ultralight Fuoriserie of the sea conceived to race and to cruise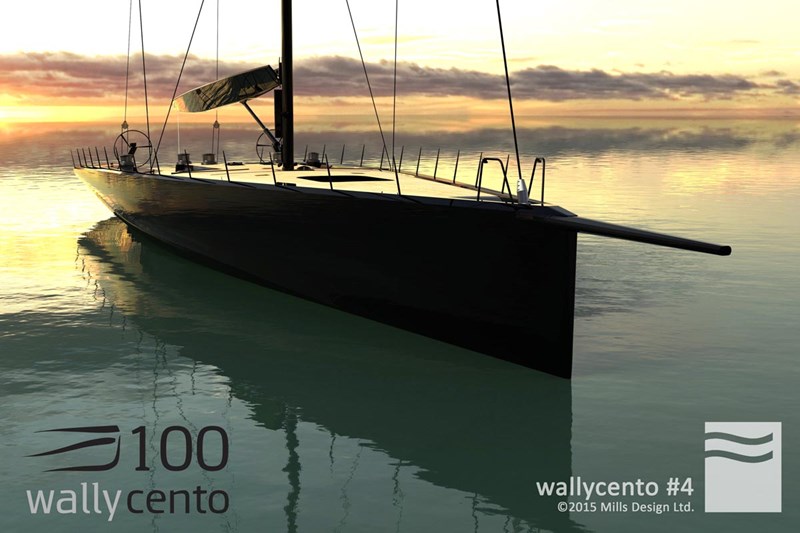 A unique combination of performance and comfort characterizes
the new WallyCento.
The superyacht is the result of the collaboration among excellences in the sector: the yacht designer
Mark Mills
, the Italian boatbuilder
Persico Marine
and the renowned design house,
Pininfarina
.
Starting from the design of Mark Mills, Persico Marine is currently building the fourth superyacht in the WallyCento box-rule class with the goal of delivering the 100-foot racer-cruiser in summer 2017.
Persico began the building process by manufacturing the CNC female mould in its Nembro plant. Next the mould was transported to the new Persico Savona facility housing a new 45 m x 12 m oven, as well as other state-of-the-art equipment. Now Persico has started laminating the yacht's hull, deck and structure.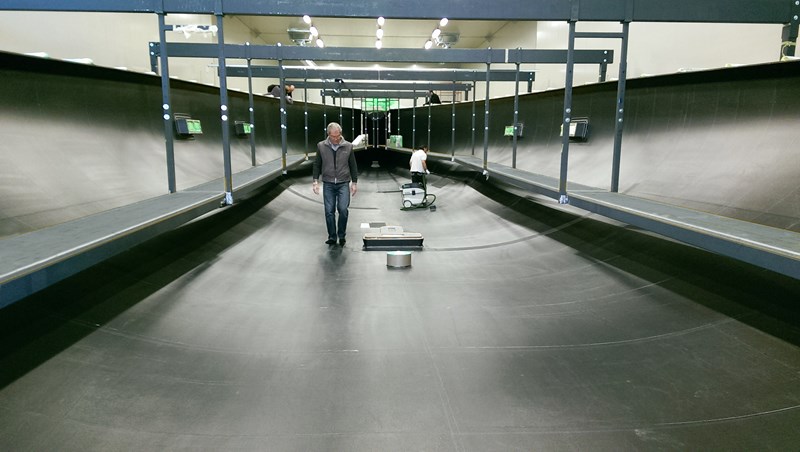 As Persico has been involved in several recent America's Cup and Volvo Ocean Racing projects, Persico is now well established in the world of top-quality large-scale composite manufacturing. From precise tooling alignment to accurate fibre placement and quality control, Persico's advanced processes guarantee the exactness of Mills' hull shape, weight control and careful final composite part assembly.
WallyCento #4's interiors will be designed by the renowned design house Pininfarina, which has been working hand-in-hand with Persico to achieve the performance goals. The team's interior design and construction methods aim to create the lightest possible craft with the optimal quality and resistance needed for a high-performance superyacht of the latest generation.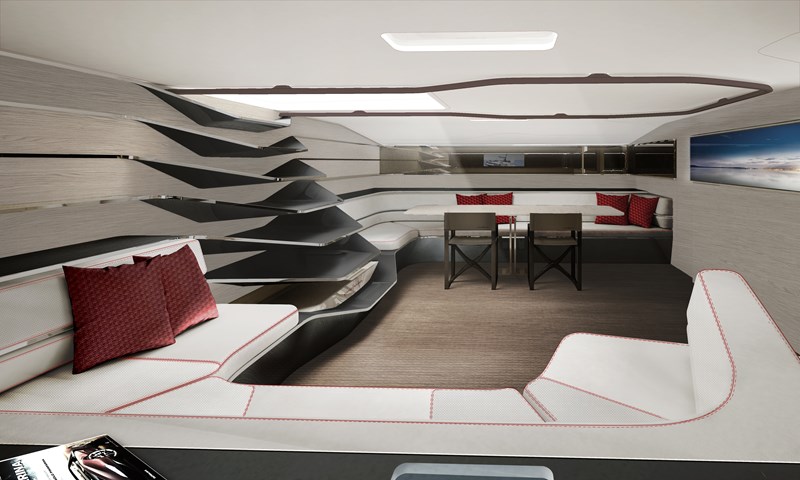 The Pininfarina team authored all the interiors. The saloon – the most iconic space - is characterized by the stairs, having both a functional and an aesthetic function. The steps in fact, like waves, continue on the walls giving life to functional spaces resulting in a dynamic environment as the sea surface. The materials used, the black carbon fiber and the light wood create a contrast able to enhance the combination of sportiness and elegance. Fast and sporty lines, light and performing structures characterize all the spaces of the superyacht.
"Thanks to our high quality production processes", said Marcello Persico, managing director of Persico Marine, "I am confident that we will be able to optimize the yacht's weight while complying with the box-rule limitations and the Wally spirit".
"Pininfarina and the sea have a long relationship that has generated, over the years, jewels able to combine elegance and performance" affirmed Paolo Pininfarina, chairman of Pininfarina. "Our philosophy is to conceive tailor-made projects, designing every single detail with the aim of fulfilling the need and the dreams of the customer. The WallyCento #4 is a new extraordinary chapter of this long-lasting story".
Persico Marine
Persico Marine offers a wide range of building services – from complete America's Cup and Volvo Ocean Race programmes to performance-oriented sailing and motor yachts for private owners.
Persico Marine's facilities feature technologically advanced equipment:
AUTOCLAVE for large composite parts(dimensions up to 2.6 x 7.2 m).

MODULAR OVENS:
1 modular oven 5-16 m x 5 m x h 3 m.
1 modular oven 5-30 m x 7.5 m x h 4.5 m.
1 oven (photo) 45 m x 12 m.
1 oven 9 m x 5 m x h 3 m.



VACUUM TABLE for flat part construction (dimensions up to 9.0 m x 4.5 m).

5-AXIS CNC MILLING MACHINES for large-sized tools (dimensions up to 25.0 m x 8.0 m x h 3.1 m, 17.5 m x 6.5 m x h 2.5 m and 8.0 m x 4.5 m x h 2.0 m).

​PLOTTER (4 m wide).

PRESS for moulding sandwich panels with extremely high mechanical characteristics and high-quality finishing.

CLEAN ROOM

INTERNAL ULTRASOUND MACHINE (NDT) for quality control.

SCANNER for dimensional scanning of components and reverse engineering.

CALENDER for roll-forming aluminium and Nomex.
Persico Marine offers a wide range of building services – from complete America's Cup programmes to performance-oriented sailing and motor yachts for private owners.
Persico Marine Contacts

Via Lombardia, 4, 24027 Nembro (BG) - Italy Ph. +39 035 520627 Fax +39 035 520829 info@persicomarine.com
Pininfarina
Pininfarina is an internationally renowned design house, since 85 years emblem of the Italian style in the world, with offices in Italy, Germany, China and the United States. Masterpieces for prestigious brands such as Ferrari, Alfa Romeo, Maserati and BMW were born from Pininfarina's pencil.
In 1986 the third generation of the Pininfarina family founded Pininfarina Extra to extend the company's competence outside the automotive world. In over 25 years of activity, Pininfarina Extra has developed over 500 projects under the guidance of Chairman and Managing Director Paolo Pininfarina (now Chairman of the Pininfarina Group).
The company's main activities include Transportation design (yachts, aircraft, private jets and people movers), Industrial design (electronics, sports goods, furnishings, equipment and machinery, consumer goods, graphic design and packaging), Architecture and Interiors (residential projects, hospitality, sports and commercial structures.
Pininfarina has been working in the nautical sector since 1988 collaborating with leading partners such as Beneteau, Primatist and Fincantieri.
Pininfarina Contacts

Francesco Fiordelisi, Head of Communications, tel. 011.9438105 e – mail: f.fiordelisi@pininfarina.it www.pininfarina.com